How to Avoid Hare-Raising Easter Bunny Photos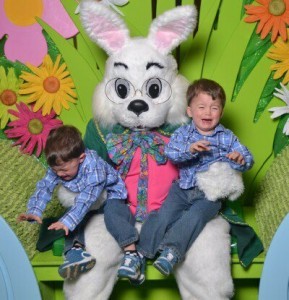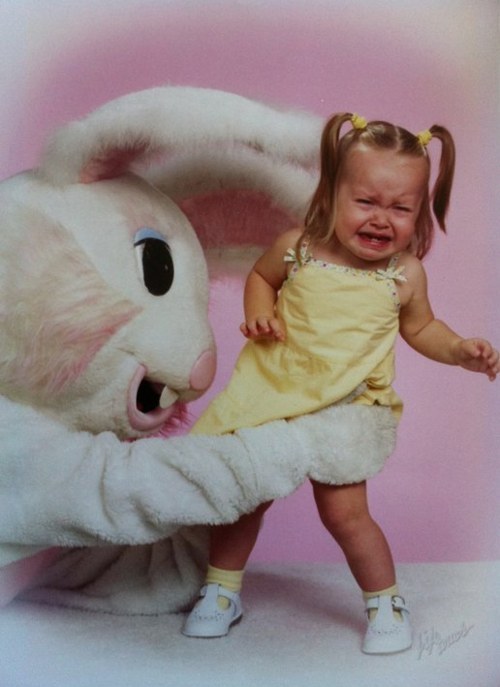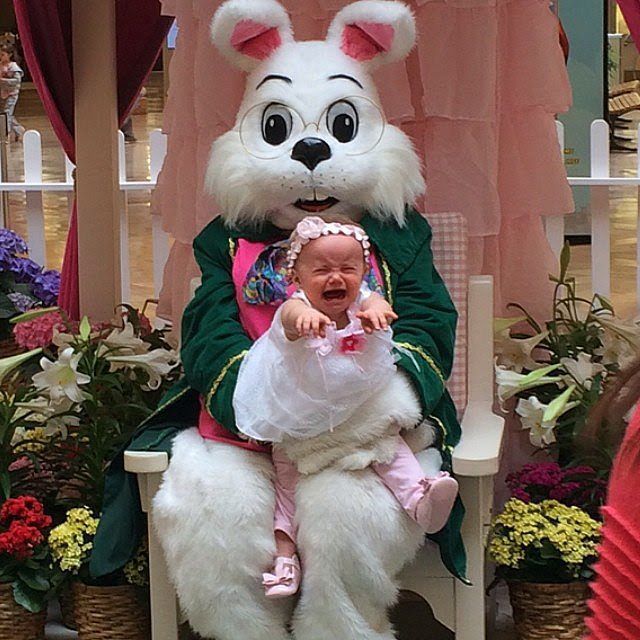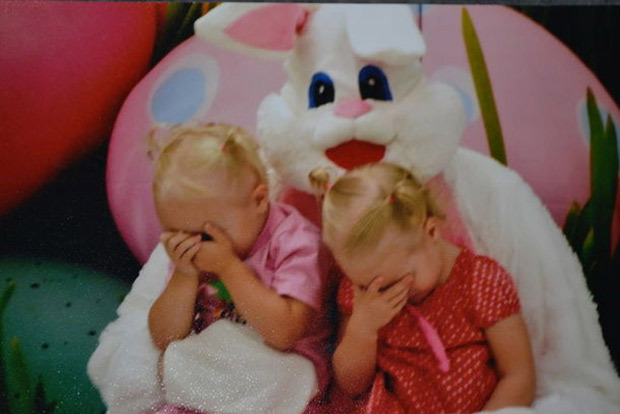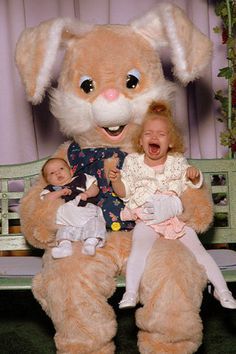 These are some truly hare-raising Easter Bunny photos! It wasn't too long ago that your child was meeting the somewhat-less-creepy Santa Claus, and now they have to sit on the Easter Bunny's lap?! Here are some tips for a meltdown-free Easter Bunny photo session:
1. Slow and Steady Wins the Race
Plan on getting photos taken during the week when things are slower and quieter. Fewer distractions and less noise will help them stay calm and concentrate on you- and how much fun they're having!
2. Avoid the Hanger!
I don't know about you guys, but I am at my worst when I am dealing with unsatisfied hunger. Add to that something I don't want to do, and I spiral into hanger real quick! Help set your child up for success by taking him/her for Easter photos when they have eaten and are fully rested. Don't forget to bring snacks in case there is a line!
3. Testing Testing, 1, 2, 3…
Since the mall is open practically all day, every day, come do a trial run if you think your child will be less than thrilled with the Easter Bunny. Testing your child's reaction in advance will help both of you prepare for the actual day, and make a better experience for everyone.
4. Bright-Eyed and Bushy-Tailed
To help your child look his/her best, bring them to the mall in play clothes, and change them into their cute Easter clothes just before their turn with the bunny. They'll stay comfortable, and you'll be able to avoid their clothes getting wrinkled or stained.
IF YOUR CHILD IS SCARED OF THE EASTER BUNNY:
5. Parents + Kids = Great Photos for the Grandparents
As was suggested with tip #3, multiple short exposures over a period of time will really help your child overcome any anxieties they have about the Easter Bunny. If you do not have the time available to do that, however, consider a "Mommy and me" or "Daddy and me" photo. In the grand scheme of things, if this will make your child more comfortable and help you accomplish your goal, this is a small compromise to make.
6. Distraction City
If you're concerned about being able to get the picture you desire, consider utilizing tip #5, and bring your child's favorite relative along! If that's not possible, what about your child's best friend? Between friends and family, you'll have lots of support and a veritable cheering squad to help your child focus on the camera and not the strange costumed creature they're sitting on.
7. The In-and-Out
With babies, you're sometimes able to sneak a photo of them with the Easter Bunny before they even realize it! Hold your baby so they're facing you, and walk toward the Bunny so your child can't see him. Coordinate with the photographer in advance to snap the picture as soon as you hand your baby off and are out of the frame. With enough speed and enough luck, you'll be able to scoop your baby back up and be on your way before he/she even realizes what happened!

Think you're ready for the Easter Bunny Adventure? See the Gallatin Valley Mall bunny schedule here.
Don't forget about the cute Easter dress or bow-tie... Check out our Pinterest board for Easter photo outfit ideas!
Return to the Blog